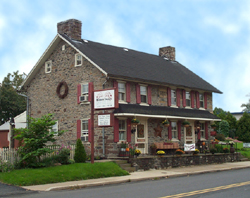 Come on in! You're always welcome!
Welcome everyone, into our beautiful and comfortable atmosphere that we've created for you at Mirror Images.
Located at 1436 West Broad Street, Quakertown, Pennsylvania, we are a Full Service Spa Salon including Massage, Facials, Manicures, Pedicures, Full Body Waxing and all Hair Services.
The beautiful old stone farmhouse that we call home is one of the most historically significant in Quakertown, built in 1734 - and its just as beautiful inside as it is outside!
We pride ourselves on being very friendly and relaxing each time you visit our salon, leaving you with an overall sense of well-being. As you browse through the salon, you'll find several different hair, and skin care products. Ask any of our stylists what is best for your hair and they will be happy to advise you on what is best for you!